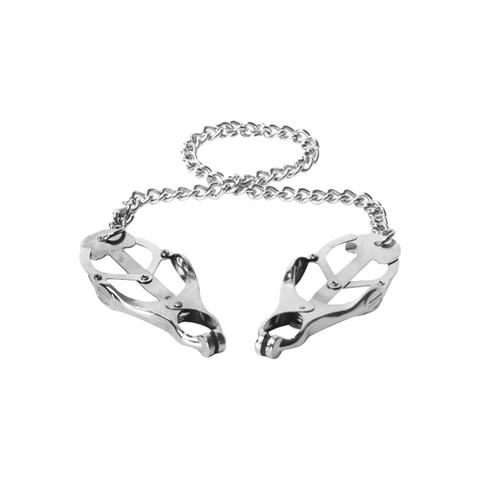 MASTER SERIES
Sterling monarch nipple vice
Le sextoy Sterling monarch nipple vice est un bibelot sexuel de la marque MASTER SERIES. Profitez de ce Accessoires coquins pour vous donner du plaisir seul ou avec votre partenaire de jeux.
Le Sterling monarch nipple vice fait partie des sextoys de la famille « Accessoires coquins pas cher ». Faites-vous plaisir !
Je vais voir sur le site
Les avantages de nos partenaires
Emballage et livraison discrets
En stock
Livraison rapide
Description
Soumettez-vous à vos désirs déviants avec ce classique intemporel.
L'étau à tétons Monarch procure une sensation légère au départ... jusqu'à ce que la chaine soit tirée.
Ils deviennent de plus en plus durs, se resserrant plus fort lorsque plus de pression est exercée sur la chaîne.
Le mécanisme en trèfle procure au Monarch une prise serrée et inflexible sur la chaire sensible.
Recommended for those with moderate to heavy BDSM experience, or an insatiable appetite for a little pain.
Dimensions : Les mâchoires font 9 cm de long, 4 cm de large, la chaine reliante fait 30 cm de long Matériau : métal
Achat de Accessoires coquins - à prix discount
Il est grand temps de se donner du plaisir au meilleur prix ! Cap sur les bonnes affaires avec le rayon Accessoires coquins de Plaisir Sex ! Parcourez nos avis sur le Sterling monarch nipple vice et comparez notre offre Accessoires coquins -, vous verrez ! Et vous chers clients pour quoi craquerez-vous ? ! Découvrez toute l'étendue de notre gamme Accessoires coquins - pas cher ! Pour arriver ici, c'est facile, les coquins amateurs de Accessoires coquins - ont recherché par exemple cette super opportunité Sterling monarch nipple vice. Retrouvez des tarifs réduits et des soldes sur les meilleures ventes de Accessoires coquins et les derniers coups de coeur des clients en Accessoires coquins -. Vous y trouverez sans peine votre bonheur ! Plaisir Sex ce sont aussi des promotions, des réductions et des ventes flash quotidiennes chez nos partenaires experts en sextoy. Et vous chers clients que cherchez-vous ? ! Plaisir Sex vous guide et vous permet de faire des économies sur votre achat Sterling monarch nipple vice comme pour tous vos achats Accessoires coquins -...! Les dernières nouveautés et surtout les meilleurs prix sur vos articles préférés, voila pourquoi Plaisir Sex est le numéro 1 pour votre achat Sterling monarch nipple vice ! Choisissez votre Accessoires coquins - à bas prix, ou bien une large offre «Accessoires coquins» vous est accessible à prix moins cher sur Plaisir Sex !
Présentation produit : Sterling monarch nipple vice
Elegant, rafiné et contemporain, ce style de Accessoires coquins s'adapte très aisement à votre intimité, quelque soit votre style. Ce modèle de sextoy existe en différentes versions et avec différentes options pour plus de plaisir. Sterling monarch nipple vice est le compagnon parfait de vos jeux sexuel. Un chouette gadget coquin par cher pour beaucoup de plaisir.
Informations générales sur le produit
Marque
MASTER SERIES
Nom du produit
Sterling monarch nipple vice
Catégorie
Accessoires coquins
Général
Modèle
sextoy - pas cher
Type de Produit
Accessoires coquins
Matières
-
Couleur(s)
Argent
Couleur(s) normalisée(s)
Gris
Poids et Dimensions
Dimensions
-
Poids
-
Divers
Marchand
Adam et Eve FR
Produit Id
st100
EAN
0811847012664